http://afe4d1-fj7fy7ob1m2sj-iskbj.hop.clickbank.net/
Click Here!
The Hen-na, meaning "weird hotel" in English, opened in Japan. It's the world's first robot-staffed hotel, featuring eerie human-like androids and a talking dinosaur.
It opened its second robot-staffed Henn na Hotel. The new location is near the Tokyo Disney Resort in Urayasu, Chiba Prefecture.
There are plans in the works to launch 100 more, including overseas, within the next five years.
The aim of Henn na Hotel "is not about being strange, it's about transforming and evolving," Hideo Sawada, founder and chairman of H.I.S., said.
"Having robots in charge of the reception and placing robots everywhere, we aim to make it the most efficient hotel in the world," he said.
Sawada said the company decided on Urayasu for its new location — called Henn na Hotel Maihama Tokyo Bay —because of its proximity to the Disney resort. He said the entertainment aspect of the hotel could match the tastes of those who visit the theme park and vacation resort.
The original Henn na Hotel opened in July 2015 near the Dutch theme park Huis Ten Bosch in Sasebo, Nagasaki Prefecture. The park itself opened in 1992, dubbing itself an "Eco-Friendly Future City."
The park's operator, Huis Ten Bosch Co., is a subsidiary of H.I.S. and Sawada doubles as its president.
The concept of the hotel is "excitement meets comfort." It was recognized by Guinness World Records in November last year as "the first robot-staffed hotel" in the world.
The reception desk is handled by robots that speak Japanese, English, Chinese and Korean, as well as porter robots that help guests carry luggage to their rooms. Tasks such as window-cleaning and vacuuming are also handled by robots.
The Nagasaki hotel is keyless, using a facial-recognition instead. It also reduces electricity usage via motion sensors that turn lights on and off automatically and has an air-conditioning system that is sensor controlled.
In Chiba, the six-story building features 100 rooms and uses about 140 robots. Seven human employees are also on site at all times to provide assistance, particularly in emergencies.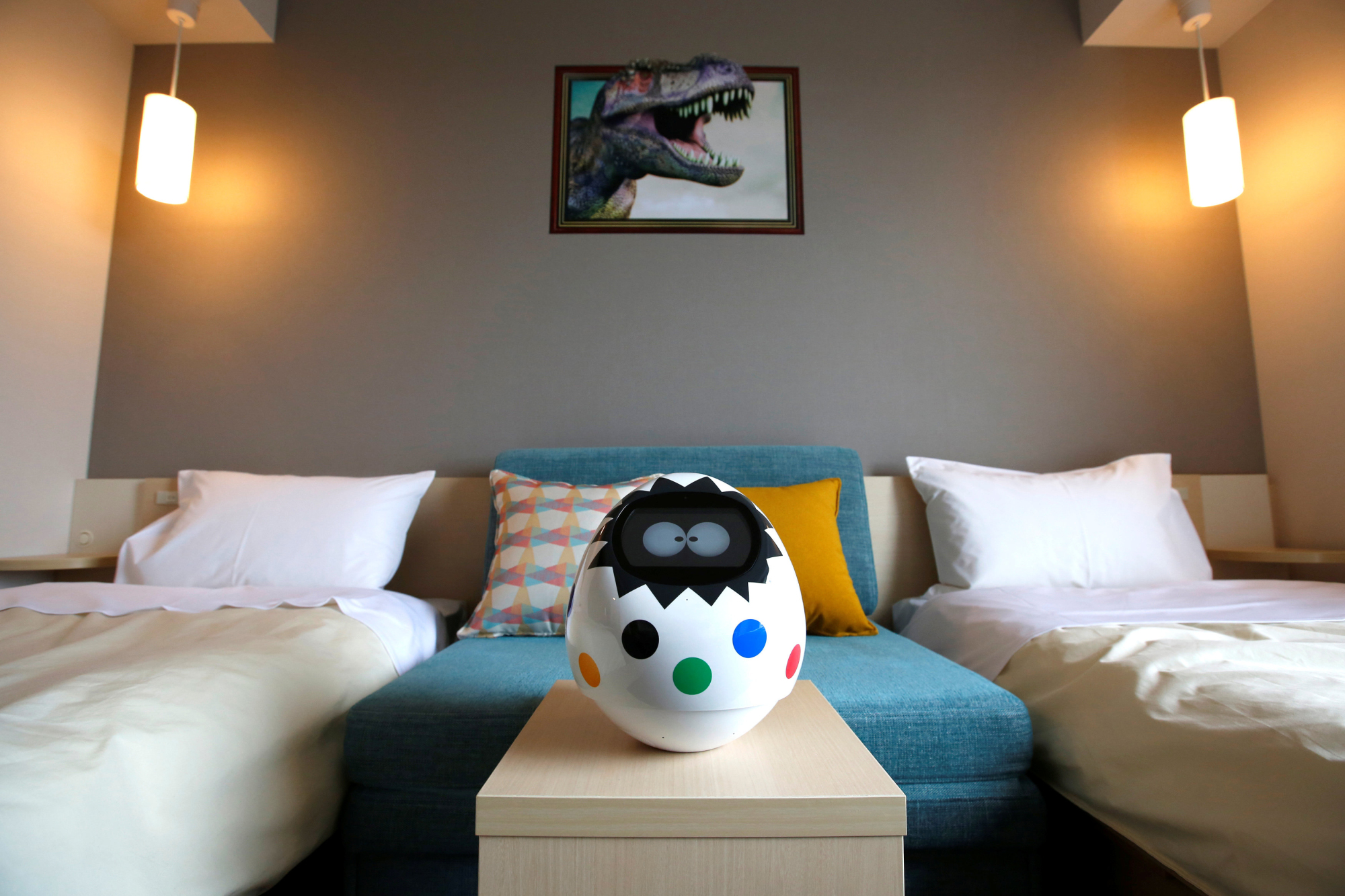 New to the Urayasu branch is the egg-shaped AI robot Tapia that is placed in each room. The voice-activated robot works as a concierge and will turn on appliances on command.
Inside the Japanese Hotel Staffed by Robots