http://afe4d1-fj7fy7ob1m2sj-iskbj.hop.clickbank.net/
Click Here!
1.

The "La Remedia" + Chick-fil-A spicy chicken sandwiches: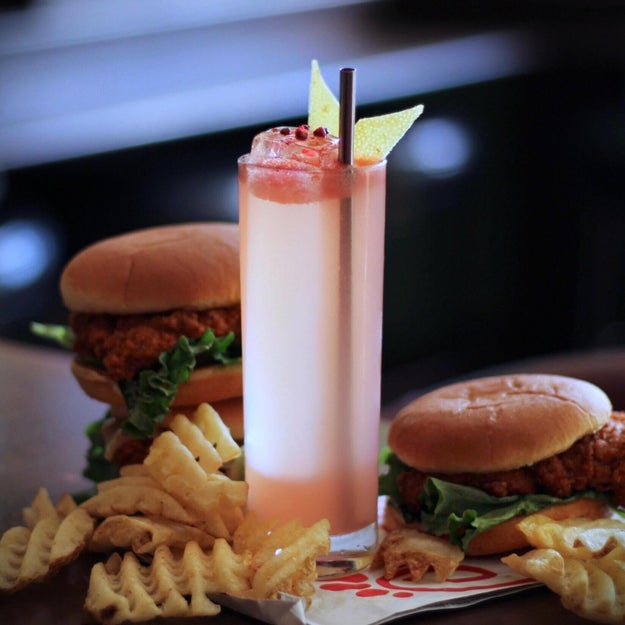 SpiritedLA
Dee Ann Quinones of Westbound paired her La Remedia with Chik-fil-A's fried glory because the drink is, "…light, refreshing and has just the right acidity to balance the fried chicken. Also, the peppercorn syrup gives a little sweet spice to offset the spiciness of the sandwich."
100% Chick-fil-SLAYED.
2 oz gin
1 ounce watermelon juice
¾ ounce grapefruit juice
½ ounce pink peppercorn syrup
½ ounce lime juice
¼ ounce lemon juice
Pinch of salt
Combine all elements in a shaker and shake vigorously. Double strain into a Collins glass and garnish with grapefruit and candied pink peppercorns.
2.

The "Mi-Su-Lada" + a Taco Bell Breakfast Crunchwrap and Cinnabon Delights: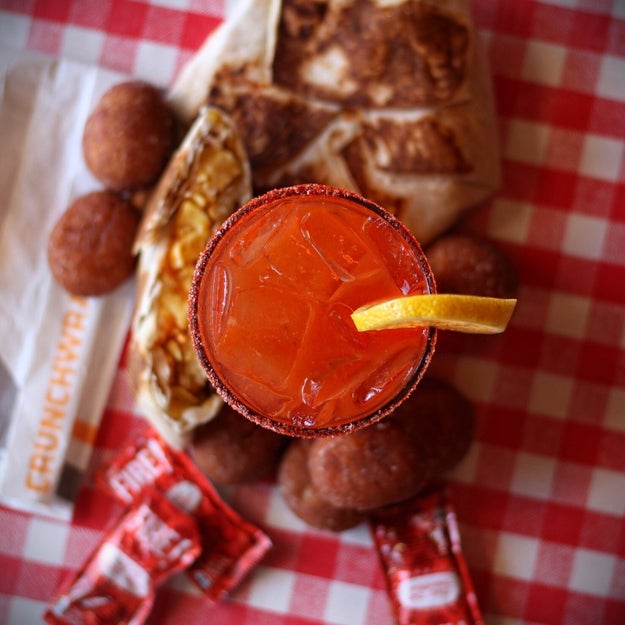 SpiritedLA
According to drink maker Eric "ET" Tecosky of Jones Hollywood, "This drink pairs perfectly with the Breakfast Crunchwrap from Taco Bell, and of course you want the Cinnabon Delights to cool off all the spice. You will be thanking me and napping in no time."
We can confirm. The salty, crisp, fattiness of the hash brown layer was perfection with the sour and spice of the cocktail, and considering that we'd eat broken glass if it was paired with Cinnabon Delights, this was 100% #brunchgoals.
12 oz ice cold beer (ET recommends Tecate)
4 oz high quality tomato or Clamato juice
1 oz premium olive juice (ET loves Dirty Sue olive juice)
¾ oz fresh lemon juice
¼ tsp of Old Bay Seasoning
2 dashes of Worcestershire Sauce
2 dashes habanero pepper sauce

Sue-Lada Salt Recipe
4 T black sea salt
2 tsp cayenne pepper
1 tsp paprika
Mix all but the beer in a shaker with ice. Run a lemon wedge around the rim of a pint glass and dip the glass into the Sue-Lada salt before pouring the mixed ingredients in. Next add the beer and garnish with a lemon wheel.
3.

The "Triple Take" + Jack-in-the-Box's Tacos and Stuffed Jalapeños: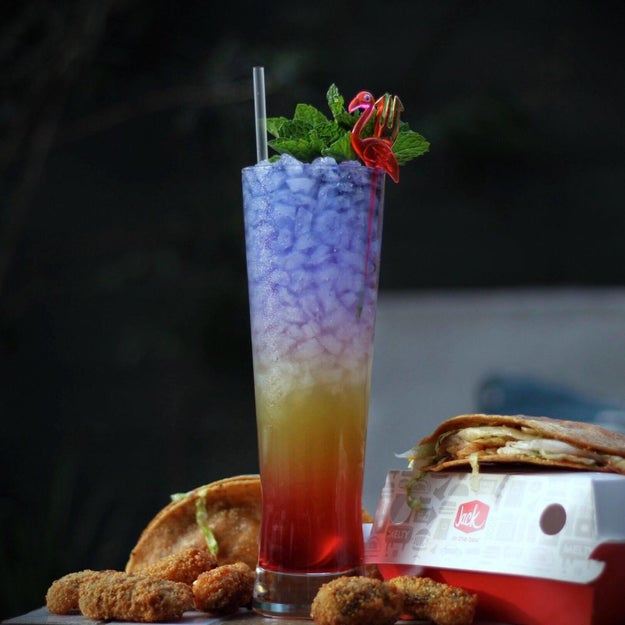 SpiritedLA
Bartender Edwin Cruz of Winsome says, "Pair this classic snack combo with a cocktail featuring Angelenos' spirit of choice, Tequila; and you've got a perfect pair!"
This cocktail was so gorgeous it almost gave us body image issues. Well, that plus the 8039485 Stuffed Jalapeño pieces we ate. ~Worth it.~
3 oz of cucumber mint apple agua fresca
2 oz pea-flower infused tequila
1 oz hibiscus syrup
Garnish with a mint sprig and straw
Fill a tall glass with crushed ice, and carefully add each of the layers in three stages. First, pour in the hibiscus syrup. Next, carefully pour the agua fresca over a spoon to create a new layer, and repeat the same layering process with the tequila. Garnish with a mint sprig and straw.
4.

The "Oaxacan Kid" + Shake Shack's Smokeshack burger: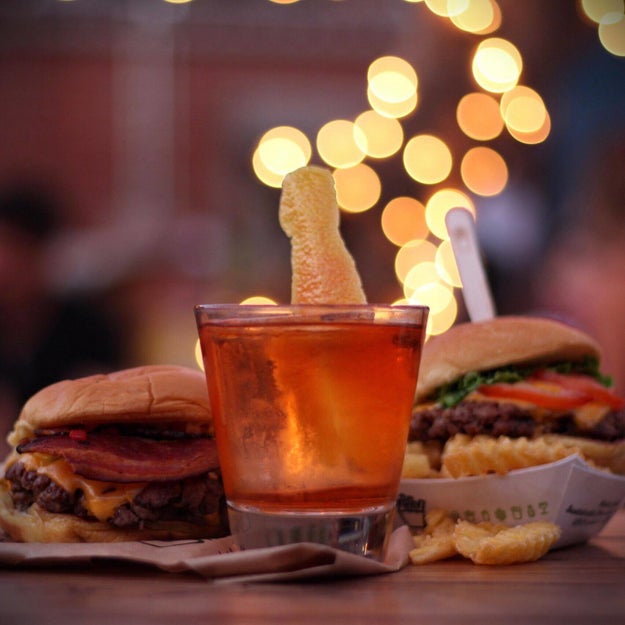 SpiritedLA
Othón Nolasco of Everson Royce Bar says, "We love Shake Shack. And we love Danny Meyer. And we love barrel aged cocktails. Our newest barrel aged cocktail is the Oaxacan Kid which goes perfectly with the newest greatest hamburger spot in Los Angeles."
Turns out a smoky cocktail + a smoky burger = *fire.*
1 ½ oz mezcal (Othón prefers Legendario Domingo)
¾ oz oz Aperol
¾ oz oz Ancho Reyes
Barrel age and garnish with a grapefruit wheel
Combine large batches of these ingredients and then barrel age the mix. Pour over a large cube in a rocks glass and garnish.
5.

This Honey Nut Cheerio & Bourbon Cereal Milk + Mcdonald's Sausage Egg Biscuits: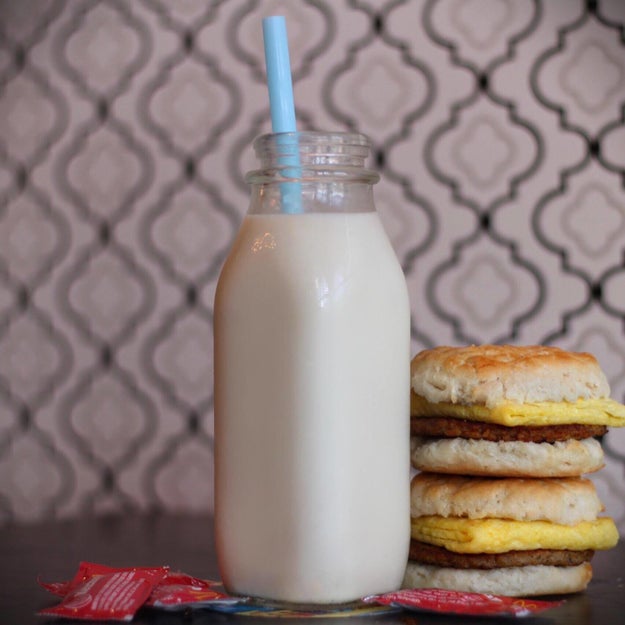 SpiritedLA
Jeremy Fall, owner of Nighthawk: Breakfast Bar says that, "the sweet and boozy element in the bourbon pairs with the savoriness of the sausage, and the honey-nut in the cereal milk pairs perfectly with the buttery biscuit."
Cereal milk. Plus bourbon. Plus Mcdonalds. Take us, we are yours.
2 cups milk
1 cup Honey Nut Cheerios
2 oz bourbon
1 tbsp light brown sugar
1 pinch sea salt
Combine milk, salt, and sugar. Soak cereal in milk mixture overnight for twelve hours before double-straining with a fine mesh strainer to remove all cereal remnants. Pour into a glass bottle, and add directly bourbon before serving.
6.

The "Strawberry Letter 23" + an In-N-Out Double Double: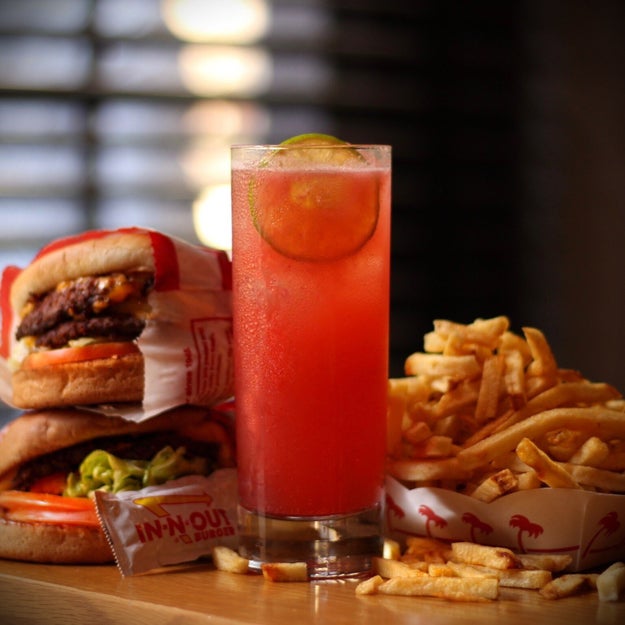 SpiritedLA
Justin Graham & Kecia Hook of Brack Shop Tavern chose this combination because, "The In & Out burger is iconic so we wanted to pair it with a cocktail that felt like a classic match. The Strawberry Letter 23, although unique, is really a classic strawberry soda cocktail. Refreshing and bright, it cuts through the richness of the burger, and provides a timeless match."
Sweet, fun, spicy, and just boozy enough to make us feel better about eating both burgers. Amen.
1 oz Campari
1 oz dry vermouth
1 oz strawberry pink peppercorn syrup (similar recipe here)
¾ oz lime juice
Soda water (to top off with)
Lime wheel garnish

Combine ingredients and shake with ice. Strain into a Collins glass, and add ice. Top off with soda, and garnish with a lime wheel.
7.

The "Joe Bird" + glazed Krispy Kremes: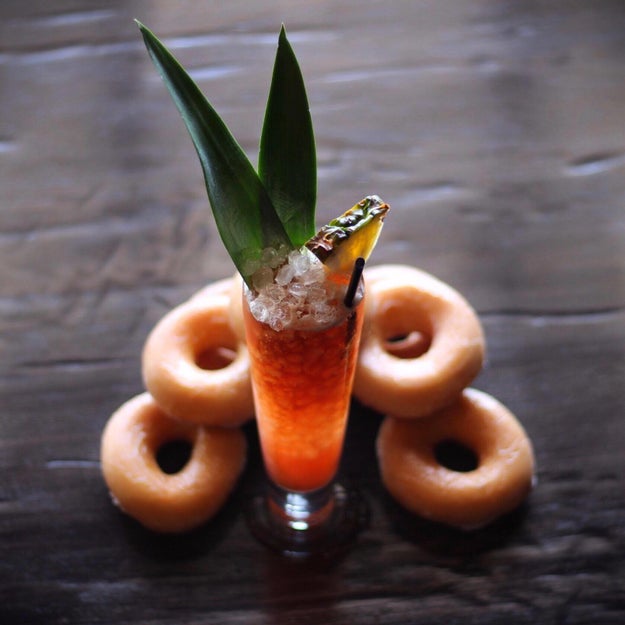 SpiritedLA
Corner Door's head bartender Beau du Bois explained that, "The Joe Bird and its blend of tropical, bitter and coffee notes compliment the rich sweetness of the glazed donuts. For me, the coffee seems like a no brainer but the pineapple paired with the yeasty flour notes is basically heaven."
Gospel. This is the breakfast *dreams* are made of.
1 ½ oz pineapple juice
1 oz rum (Beau uses Atlantico private cask)
¾ oz lime
¾ oz Campari
½ espresso
¼ oz Rollich's Kola Nut Cordial

Dry shake all ingredients, dump into a tall Collin's glass, and fill with crushed ice. Floatespresso on top.
8.

The "Spicy Mamacita" + Chipotle's Burrito Bowl: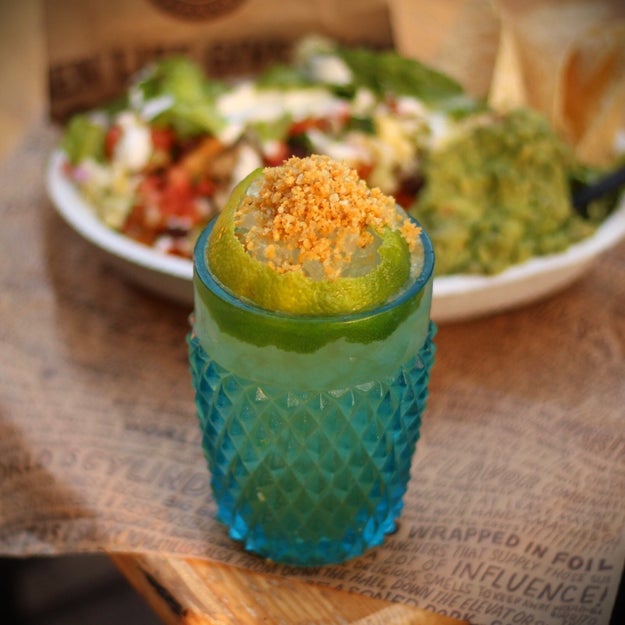 SpiritedLA
Randy Tarlow of Liquid Alchemist told us he drew inspiration from the Mexican dish Pollo al Tamarindo, and said, "I love to pick up a Chipotle chicken bowl and add my tamarind syrup to it. Delicious!"
The salty crushed Fritos together with the smoky mezcal and warm sugary fruit flavors make the Burrito Bowl almost tolerable (sorry, we're #teamtacobell).
1 ½ oz mezcal (Randy likes El Silencio)
1 oz fresh lime juice
½ oz Ancho Reyes chile liqueur
½ oz tamarindo syrup (Randy recommends Liquid Alchemist)
½ oz ginger syrup (Randy recommends Liquid Alchemist )
Garnish with lime twist
Rim with smoked sea salt and crushed Fritos
Shake the mezcal, lime, Ancho, and syrups with ice, and pour over a rocks glass packed with crushed ice and rimmed with crushed Fritos and sea salt. Garnish with lime twist.
9.

"Sancho's Allure" + Taco Bell's Steak Quesadilla: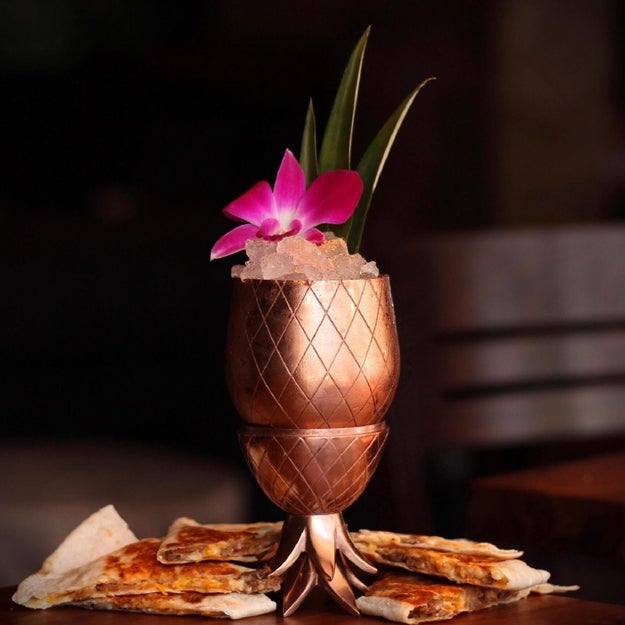 SpiritedLA
Josh Suchan of Ice and Alchemy on the pairing: "The lime juice in this cocktail cuts through the quesadilla's fattiness, while the dairy-free coconut horchata will tame any amount of Fire Sauce. The combination of coconut, pineapple and spices is deliciously obvious, and the underlying mesquite smoke brings an exciting element that plays well with any meat."
The only thing that would make this cocktail better is if it came in a plastic Baja Blast cup.
1 ½ oz dairy free house-made coconut horchata (example recipe here)
¾ oz smoked silver Tequila (Josh recommends Maestro Dobel Humito)
¾ oz Silver Tequila (Josh uses Maestro Dobel)
¾ oz lime juice
½ oz pineapple-serrano gomme (ex. recipe here)
2 dashes Angostura Bitters
Garnish with nutmeg, orchid, and pineapple leaves

Shake all briefly and strain over nugget ice. Garnish with a sprinkle of nutmeg, orchid, and pineapple leaves.
10.

The "Baldoria Cuba Libre" + Chick-fil-A's Fried Chicken Sandwiches: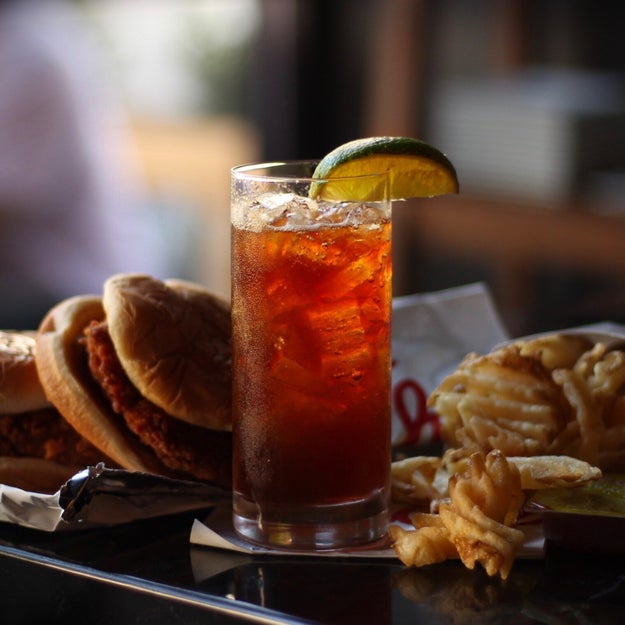 SpiritedLA
Baldoria's Beverage Director David Karl King says he put these two together because, "You can't get more 'Murican than a fried chicken sandwich and coca-cola. In this particular case, the sweetness and carbonated lightness of the cocktail acts as a counterbalance to the extremely salty, rich (and delicious!) sandwich."
Pure art.
3 ½ oz filtered water
2 oz Amaro (David uses Ramazotti)
1 oz dark Jamaican rum
¼ oz lime
Lime wedge for garnish
Combine all ingredients and carbonate at 48 psi. Garnish with lime wedge.
11.

The "El Jaibolero" + Carl's Jr.'s Double Western Bacon Cheeseburger and Crisscut fries: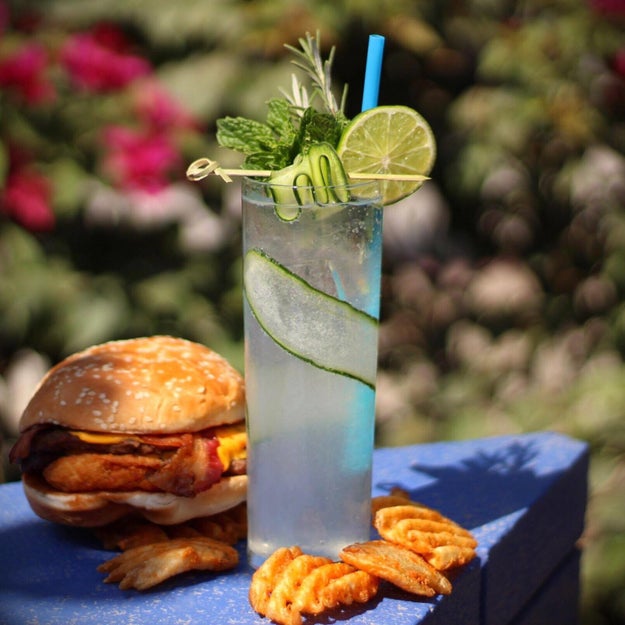 SpiritedLA
It's not difficult to see why Aaron Melendrez of Salazar chose to put these two together. This smoky burger is peak foodporn (cheese, fried onion rings, bacon, and a double patty) so pairing it with a crisp, herbal, and refreshing cocktail helps balance out the intensity.
Actual proof that civilization moves towards progress.
2 oz Highland style tequila
¼ oz lime juice
2 dashes of celery bitters
Fresh bottle of soda water
1 lime wheel
1 mint sprig
Thinly peeled slice of cucumber
Chill a Collins glass. Next, add tequila, celery bitters, lime juice and ice. Top with soda water and garnish with cucumber, mint, and lime.
12.

The "Drunkin' Donuts" + a Boston Kreme from Dunkin' Donuts: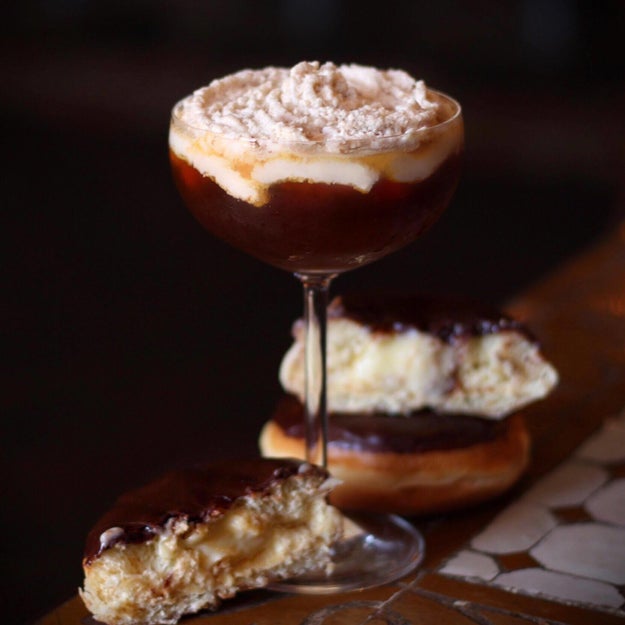 SpiritedLA
Genie Gore at Melrose Umbrella Co. chose this pairing because, "Boston cream donuts are one of the food items that we New Englanders will always love. This cocktail has all the delicious flavors of a good New England donut with the jolt of cold brew coffee."
AND IT'S LOW IN CALORIES?? THAT'S SUCH GOOD NEWS WE'RE PRETENDING WE JUST HEARD.
1 ½ oz Genever (Genie recommends Bols)
1 oz cold brew coffee
1 brown sugar cube
2 dashes Toasted Pecan Bitters (Genie uses Miracle Mile)
For whipped topping:
1 cup heavy cream
Coffee liqueur (Genie loves Galliano Ristretto)
Add all ingredients except coffee liqueur and heavy cream together in a mixing glass. Muddle to break up/dissolve the brown sugar cube. Next, add ice and stir until the drink is cold and diluted. Strain into a cold coupe glass, and top with a layer of whipped topping (made by whipping the cream until soft peaks form and adding coffee liqueur to taste). Serve.
buzzfeed